How do we not lose the momentum of this past year to make deep transformational change, addressing institutional inequities, white supremacy, and racist policing? How do we address the attacks and bans to outlaw racial justice education and trainings and the attempts to literally whitewash U.S. history? Those were some of the questions addressed at SpeakOut's Summer Institute 2021 for Campus Faculty and Professional Staff.

Four days of sessions provided 10+ hours of deep professional development and healing-centered pedagogy, models, and tools for creating a new anti-racist normal in our institutions and communities.
 
For $39, purchase the recordings to all
4 days of sessions in the SpeakOut online store!
ASL and English captioning provided.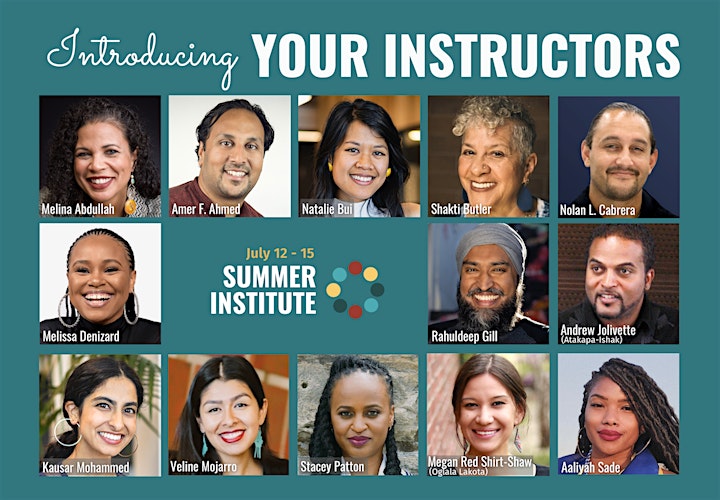 Summer Institute Sessions:
Session 1: Social Justice, Healing, and Radical Imagination in Higher Education
Session Instructors: Dr. Shakti Butler and Dr. Andrew Jolivétte
Session 2: Trauma-Informed Pedagogy: Transforming Trauma into Thrivance to Create Healthy Learning Environments
Session Instructor: Dr. Stacey Patton
Session 3:  Challenging White Supremacy Through Community Care and Finding Resilience and Calm in a Chaotic World
Session Instructors: SHIFT and Dr. Rahuldeep Singh
Session 4: Transforming Campus Diversity, Equity, and Inclusion (DEI) Work to Realize Deep Institutional Change
Roundtable:  Dr. Melina Abdullah, Dr. Amer Ahmed, Dr. Nolan Cabrera, and Veline Mojarro

Moderator Melissa Denizard also hosted post-session discussions with participants, also included in your purchase.
 
    ___________________________________________________________________________
Powered by the Institute for Democratic Education and Culture - SpeakOut, a mission-driven speakers agency and non-profit education institute that encourages critical and imaginative thinking to address the major inequities of our day and transform a fractured world.